Reflection Hall Meeting Space
Welcome to Reflection Hall … your meeting space in the mountains, a tranquil alternative for your business meeting or management retreat! Whether you are looking to hold a business meeting or to host a family get-together, consider Ole Mink Farm for your next gathering! Reflection Hall provides the splendor of the outdoors with the conveniences of a larger facility. Reflection Hall has a large meeting space and a separate prep kitchen area. The hall may be set up with table seating or theater style seating. For your comfort, central air and heat is available in the facility. A large stone hearth with fireplace accents the warm décor of the meeting room. Large sliding glass doors open to a spacious deck for all to enjoy the beauty of the Catoctin Mountains. Consider Reflection Hall for your next event!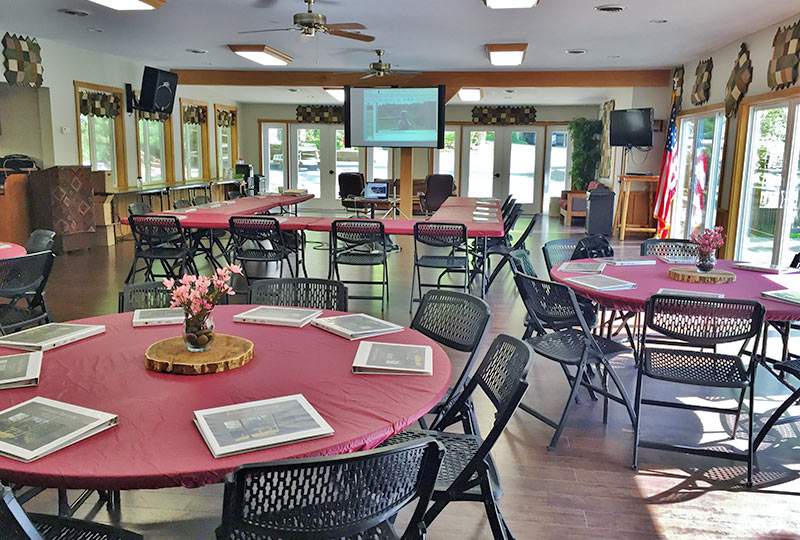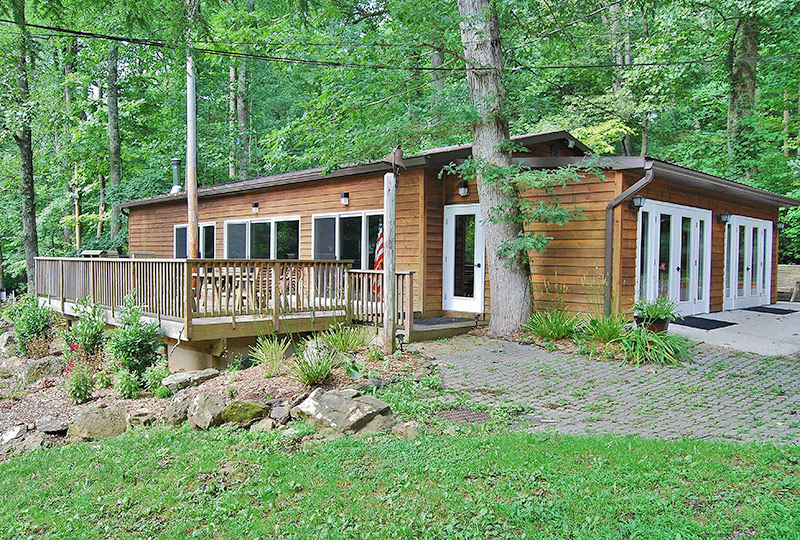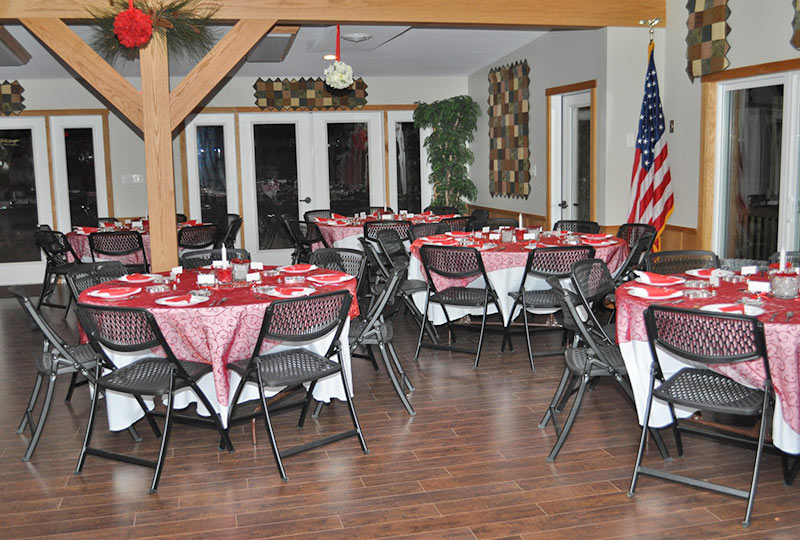 Business Day Meetings
Small Business Retreats
Small Church Retreats
Family Reunions
Birthday Parties
Baby/Wedding Showers
Holiday Parties

Large Meeting Space
Projection Screen
Podium
Sound System
Wi-Fi Internet
Central Air and Heat
Separate Prep Kitchen
Large Sliding Glass Doors
Spacious Deck
Small Pavilion Available Upon Request for Break-Out Sessions
Catering can be arranged with local restaurants.
Reflection Hall is a smoke-free and alcohol-free facility.
Ole Mink Farm was the perfect mix of 'escape from the city into a thoughtful place', and 'access to the Internet / appliances' meeting place that we needed to conduct our off-site manager meeting. The landscape around the meeting space itself provides a gorgeous backdrop that helps team members enter that creative brain that needed for productive planning. The facility was clean, and fully outfitted for meal preparation or storage. It contained the necessary projector and table modularity to conduct both single presentation with up to 20 team members and 3 to 4 break out groups of 5-8 team members. The Internet connection was superb, both stable and highly performant. Staff at Ole Mink Farm were cordial, helpful, and easy to work with. The price of the meeting room was a great value. In short, we will have been to Ole Mink Farm twice for an all day off-site meeting, and will continue to schedule future meetings there. Thanks Ole Mink Farm!
Bill Barclay, Experient
VP Software Engineering
The Ole Mink Farm is a perfect spot to gather and collaborate. It is very convenient to Frederick, but far enough away to feel really removed from the day-to-day hustle and bustle. The location is beautiful, and the facility is very well-equipped with technologies for collaboration – high speed, stable Internet access, conference speakerphone and computer projector/screen. The conference room was designed to accommodate a variety of meeting situations – theatre-style or break-out groups – it can be setup to be casual or formal. The room is light and airy. The kitchen was excellent – we brought our food in and there was ample space to refrigerate and to serve. I have to call particular attention to the staff at Ole Mink Farm – they were wonderful to work with; welcoming, helpful, friendly and professional. Everything in the facility was clean and in excellent condition. Ole Mink Farm has proved to be an ideal meeting location for our company. I hope to be back there soon!
V. Leanne Frank, Experient
Manager, Design Services
The Maryland Retreads Motorcycle organization has used the Reflection Hall at Ole Mink Farm for an annual retreat for several years. The Reflection Hall is perfect for this event. It is spacious, comfortable and easily accommodates our needs for our retreat. The setting in the Catoctin Mountains is wonderful and encourages you to relax. A great atmosphere for brainstorming. There is a kitchen equipped with any utensil you may need for preparing a meal including stove and refrigerator. The Irons family are wonderful hosts, ensuring all our needs are met. I would recommend the Reflection Hall for any type of group gathering.
Jeff & Patsy Ensminger, Maryland Retreads Motorcycle Organization
State Representatives
Luxury Log Cabins
Pet Friendly Luxury Log Cabins
Pet Friendly Cabinettes
Coffee Hollow Lodge
Reflection Hall 2023 Rates
Day of the Week
# of People
Rate
Weekdays (Monday - Thursday)
Up to 30 people
$150.00
Weekends (Friday, Saturday, Sunday)
Up to 30 people
$300.00
Please call for rates for larger groups. Reflection Hall will accommodate up to 70 people.
Additional fee for kitchen use.